Removalists Blacktown
Are you looking for quality, trusted, and efficient removalists in Blacktown? If so, then you've come to the right place. Our In Time Removalist team has the experience and skills to provide you with the easiest, smoothest move possible, no matter where you're moving to.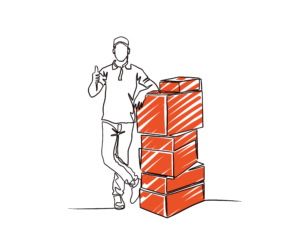 We handle everything — from packing, loading to offloading. We'll also help you set up your new home or office to your specifications. What's more, we always use protective packing materials, so you can rest easy knowing that your fragile and most valuable possessions are safe. Contact our team for more information about our residential and commercial moving services.
Our Services
Whether you are looking for furniture removalists, home or office removals, or interstate removalists, we can handle it all and will go out of our way to meet all your needs.
Additional services:
Don't have packing and moving equipment? Worry not! We sell top-quality moving boxes, furniture pads, packing tape, moving kits, labels, and shrink wraps at an affordable price.
100% Satisfaction Is Our Promise to You!
We're well aware that our success and job security depend on customer satisfaction and great relationships! That's why our core goal is to have complete client satisfaction. It's also why we back our services with attentive, premium customer care.
More Reasons to Choose Us!
Here are more reasons why we rank among the top moving companies in Blacktown, Western Sydney:
Our moving experts are highly trained to move your furniture and belongings professionally and cautiously.
There is no moving job that is too big or too small for us to handle.
We are committed to providing superior removal services at a cost you can comfortably afford.
We're fully licensed and proud members of the Australian Furniture Removers Association (AFRA).
We are also insured. You'll have peace of mind knowing that if any of your belongings get damaged during the removal process, you will be fully compensated.
We offer unrivalled, reliable, and timely services and have never missed a deadline. From the moment you contact us, we do everything in our power to meet your moving needs fast and satisfactorily.
Every removal job has to be overseen by a competent coordinator.
We have a fully equipped fleet of trucks and vans.
We provide free estimates, and what we quote is what you pay. There are no hidden fees.
Our technicians follow a strict step-by-step moving process, which helps eliminate errors and ensure exceptional quality. This also enables us to keep our commitment to client satisfaction at 100%.
Hire Us for Stress-Free Removal Services In Blacktown
What are you waiting for? Book an appointment today. Our team is more than ready to help you move to your new home or office space. Also, feel free to contact us if you have any questions. Our team is always ready to answer even the most complex questions at no cost.
1 Bedroom Unit
2 Movers
25m3 Capacity
4.5 Tonne Truck
Removalist blankets
Removalist Ropes
Trolleys
Dollys
Shrink Wrap
Bubble Wrap
Tools
Get A Free Quote
2-3 Bedroom Unit
2 Movers
30-40m3 Capacity
6-8 Tonne Truck
Removalist blankets
Removalist Ropes
Trolleys
Dollys
Shrink Wrap
Bubble Wrap
Tools
Get A Free Quote
3-4 Bedroom Unit
2 Movers
40-50m3 Capacity
10-12 Tonne Truck
Removalist blankets
Removalist Ropes
Trolleys
Dollys
Shrink Wrap
Bubble Wrap
Tools
Get A Free Quote