Removalists Penrith
If you're looking for moving services in Penrith, In Time Removalist is here to help. Just tell us when and where you need to move, and we'll show up without fail. Our home and office removalists are highly trained and equipped with advanced moving technologies and skills.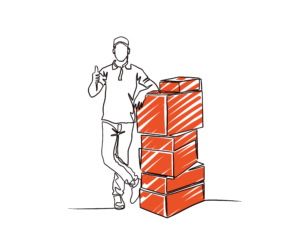 Our range of services includes packing, wrapping fragile belongings, loading, moving, offloading, furniture removals, and more.
Want to book an appointment? Making an appointment for service is easy. Just fill our online form or contact us and speak with one of our customer care agents. We look forward to hearing from you!
What You Get When You Choose Us
Reliable and premium services; need we say more?
Here are other benefits you'll enjoy when you work with our professional removalists at In Time Removalists in Penrith:
1. Affordable and Transparent Pricing
We are not in this business for a quick buck, but to take away the pain and struggle during this transition period of your life. Our prices are fair and competitive. What's more, there are no hidden or surprise fees.
If there are any unexpected or extra expenses, you have to approve them before adding them to your bill. Our modes of payment are also flexible.
2. Excellent Customer Services, Relationships
If it isn't obvious by now, allow us to put it out there: We treat all our customers like family, regardless of their needs and budget. And when you hire our services, you automatically become an extension of that family.
3. Deadline-Oriented Services
We have helped thousands of Penrith residents move their homes and offices for years now and have never missed a single deadline.
We pride ourselves on working on the clock. So whatever deadline you give us, the deadline-oriented team at In Time Removalists will ensure the timely execution of your move.
4. Professional Attitude
When you hire us, you'll get nothing short of professionalism from our team.
There are no airs and graces. We're a down-to-earth company with only one goal in mind: to get you the best moving experience you cannot get elsewhere.
5. Access to Excellent Customised Services
We can customise our removal services to fit your specific needs and budget. What's more, we have protective modern moving equipment to make sure your most precious and delicate items are moved with utmost care.
6. We Listen
We take our time to listen to all your needs and requirements, right down to every last detail. This allows us to plan more effectively, guaranteeing you excellent services that exceed expectations.
Did we also mention that you'll get a designated removals supervisor who'll oversee your move, ensuring everything goes according to plan?
Hire Us!
If you want a stress-free and smooth moving experience in Penrith, we highly recommend that you put it in the hands of experienced movers at In Time Removalist. Give us a call today for excellent, trustworthy removalists Sydney.
1 Bedroom Unit
2 Removalists
25m3 Capacity
4.5 Tonne Truck
Removalist blankets
Removalist Ropes
Trolleys
Dollys
Shrink Wrap
Bubble Wrap
Tools
Get A Free Quote
2-3 Bedroom Unit
2 Removalists
30-40m3 Capacity
6-8 Tonne Truck
Removalist blankets
Removalist Ropes
Trolleys
Dollys
Shrink Wrap
Bubble Wrap
Tools
Get A Free Quote
3-4 Bedroom Unit
2 Removalists
40-50m3 Capacity
10-12 Tonne Truck
Removalist blankets
Removalist Ropes
Trolleys
Dollys
Shrink Wrap
Bubble Wrap
Tools
Get A Free Quote