Not only do we offer packing and moving services, but you can also find premium quality moving supplies at our box shop at a very reasonable price. The products here include small, medium, and large moving boxes, furniture pad, packing papers, tapes, moving kits, labels, etc. One of the significant sections of our box shop is available at our online store, or you can directly can us to get deliveries.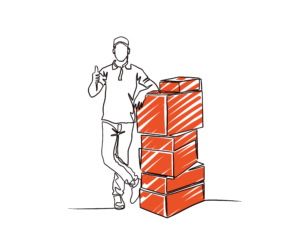 Why to Choose InTime Removalists
Since a very long time, InTime Removalists have successfully moved thousands of homes and offices. People rely on our interstate removalists Australia with their moves since we give them a protected and smooth moving experience alongside least expensive interstate moving cost. Our team, at We, provides 100 per cent damage-free moving, completely resourced with the latest machines, full security while lifting and loading, and on-time relocations. Whatever your moving needs, we can help. Regardless of whether it be moving a single thing, a whole family unit, or migrating your office, InTime Removalists have a truck to suit each move and budget. Our clients' needs are of prime importance to us, which is the reason we offer adaptable moving plans customised to your particular necessities and at the ideal cost.
At InTime Removalists, we allocate an on-move director who facilitates the work and guarantees that part of each progression is being finished with an arrangement to save time and money. Move manager will give you solutions that encourage the procedure to run smoothly. Our Removalists will guarantee travel correspondence, and on the off chance that you are putting away your Sydney furniture Removalists in our storage facility, at that point, live tracking will be given to guarantee the safety measures that finishes the move. Contact us today to get your custom offer for the best price!
1 Bedroom Unit
2 Movers
25m3 Capacity
4.5 Tonne Truck
Removalist blankets
Removalist Ropes
Trolleys
Dollys
Shrink Wrap
Bubble Wrap
Tools
Get A Free Quote
2-3 Bedroom Unit
2 Movers
30-40m3 Capacity
6-8 Tonne Truck
Removalist blankets
Removalist Ropes
Trolleys
Dollys
Shrink Wrap
Bubble Wrap
Tools
Get A Free Quote
3-4 Bedroom Unit
2 Movers
40-50m3 Capacity
10-12 Tonne Truck
Removalist blankets
Removalist Ropes
Trolleys
Dollys
Shrink Wrap
Bubble Wrap
Tools
Get A Free Quote
Testimonials
The service was incredibly professional and lightning fast. The boys did an amazing job and went above and beyond to get the job done as safely as possible. The workers were very charming indeed. In Time comes highly recommend!
👍👍👍👍👍
Milan Jeftic