You're relocating, and the dreaded moving day is fast approaching. Hopefully, you've sorted out all the little details like the change of address and ensured that your new home's utilities and telephone are connected. All that's left is to prepare for the reputable removalist company to complete your move. But how should you prepare? Follow these steps for a stress-free moving experience.
Declutter and Discard
Use the opportunity to declutter and dump unuseful or unwanted items. While doing this, you can begin planning and ordering packing materials from your removal service. By decluttering and discarding, you save a lot of time on moving day.
Pack Your Boxes Correctly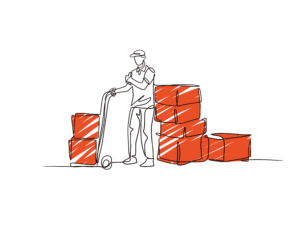 Use small boxes to pack heavier goods and use larger boxes for lightweight items. Try to fill the boxes per room and label or number them to save time later. Keeping an inventory of what the boxes hold also avoids confusion with the unpacking. Pack your essential day-to-day items separately and last. Either take this box with you or make sure that it's the last one on the truck and the first to be taken off. Toiletries, clean clothes and a kettle with coffee and sugar are examples of what should go into the essentials box.
Mark Important and Fragile Items
Labelling your boxes is essential to the moving process. Tell the removalists about any valuable or fragile items and mark the boxes. A reputable removalist with years of experience knows how to treat these goods. Electronics and computers should also be packed separately and labelled. It's a good idea to take these in your car with you to avoid the chance of damage.
Prepare Appliances and Furniture Beforehand
Prepare your appliances and furniture beforehand to save time and frustration on moving day. Try to use up as much of the contents of the fridge as possible. Pack anything that's left in an esky. Check the manufacturer's instructions for your washing machine to prepare it for safe removal. Lastly, disassemble large furnishings that you can dismantle to avoid unnecessary damage on the day. Tape any screws, washers, or nuts to the furniture or label these items and pack them in a separate box with your remotes and other small gear.
Ensure Access
Make sure that somebody is home to give the removalists access to the property. Ensure that the doorways and passages are free. Move any boxes or furniture that obstructs free movement.
It's even a good idea to measure doorways and passages in your new home and inform the removalists if there are possible problems getting furniture into some of the rooms. Lastly, try to ensure that the roadway or driveway is clear for the removal van to park as close as possible to the house.
Conclusion
Proper preparation and planning ensure fast and hassle-free removal. Follow these steps to make moving day as smooth as possible.
Declutter and discard.
Pack your boxes correctly.
Label and inventory your boxes, marking important and fragile possessions.
Prepare furniture and appliances beforehand.
Ensure the removalists have access.
To find out more about our packing services or unpacking services, please call InTime Removalist on 1300 536 161 now!