The moving process is a difficult one. It's difficult to get your house packed into a single vehicle, and when the family is following, there's bound to be luggage left behind. So you're stuck with two options, cramming whatever you can fit into a car and selling the rest, or hiring a professional moving service to make the trip with you. But are movers worth the time and effort? Is it better to skip professional moving services and hope a mate offers to help with moving boxes? Read on to find out.
Services
Movers do more than just taking your belongings from house to house. They come ready to box, pack, unbox, and even install a variety of your belongings. They provide a variety of packing materials boxes, bubble wrap, and a van of their own to help. They even bring heavy lifters for the troublesome couches and bed frames that are too cumbersome to move on your own. Hired moves can offer complete packing loading services or just help you unload if that's your preference. These services are essential for a large house and family moves. But the more significant and farther the move, the more expensive the service.
Services from company to company will vary, but most full packing services provide:
Packing paper and bubble wrap
Packing and unpacking services
Hired movers and heavy lifters
Boxes and tape
Disassembling tools
A loading van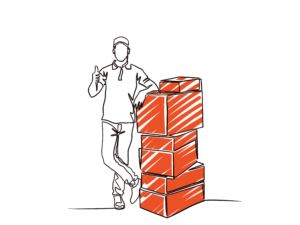 Expenses
Many factors determine the cost of your move, and this will vary between moving companies. Some companies charge per mover and rooms moved, while others charge by the overall move's time, some billing for as low as per 15 minutes. The distance of the move is another factor that must be considered, as some companies won't move outside the city. It's easy to rack up an expensive bill if you aren't careful.
Research shows that most in-city moving costs will range between $300 and $3,300, depending on the services needed and the move's difficulty. City to city moves will be significantly more expensive, as any long-distance travel will cost you time and distances travelled.
The Verdict
Short, in-city moves can quickly be made with the help of friends. Packing up a one-person apartment, minus big furniture pieces can be done on your own. Many furnished apartments come with built-in bulky appliances, so you won't have to worry about a fridge or bed frame most of the time. A rented U-haul or even a friend's van can easily house the contents of a small apartment.
For big family moves, however, hired movers are considered a must. Though moving expenses can be pricey, they're essential in seeing big-scale belongings moved across the city or farther. It allows you and your family to start fresh without having to sacrifice your luggage, memories, and time.
If you are looking for reliable packing services in Sydney to help with your move, get in touch with InTime Removalist on 1300 536 161.